A Veterinary Technician is a Skilled Nurse for Pets
We are always pleased when a client tells us that they really like and appreciate Dr. Montory. Behind the scenes, they enlist the help of a talented group of pet nurses, which are normally called technicians, in the veterinary field. These technicians perform many of the same procedures as nurses working in the human medical field. Our technicians assist our doctors with surgeries and on their own do dental cleanings, lab work, take x-rays, place IV catheters, and a list of other services too lengthy to list here.
While many veterinary technicians have been trained exclusively on the job (with proper supervision) over many years, others have additionally attended multiyear college programs. In all cases, veterinary technicians, just like human nurses, are the backbone of the veterinary medical team. They are instrumental to Dr. Montory in helping you to keep your pet happy and healthy.
Dr. Montor is the Medical Director of 4th Street Pet Hospital. She has a Bachelor of Science Degree in Animal Sciences and is a 1993 graduate of the University of Pennsylvania Veterinary Medical School. She previously owned a small animal veterinary practice with her husband, Keith, in South Carolina, and has worked with practices in California and Florida. She believes strongly in taking time to get to know her patients and pet parents. She encourages you to ask lots of questions concerning you pet's health and well-being. In her free time, she enjoys reading, gardening, and traveling. She has three cats named Dickens, Katie, and Cooper. She lives in the Crescent Heights neighborhood of St. Petersburg, and looks forward to meeting you and your pets!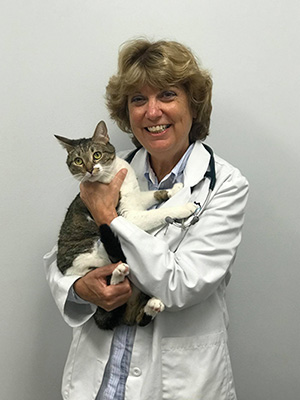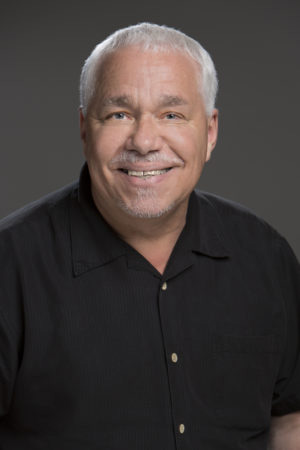 Keith
Managing Partner and Hospital Administrator
Keith was a Co-Founder and Hospital Administrator when 4th Street Pet Hospital opened in 2012. Sadly, he passed away from brain cancer in April 2017. At our hospital, he was well-known to the clients as the sweet gentleman who always came out to greet everyone and offer coffee, tea, or water. Here at our hospital, he was responsible for all business, customer service and staffing matters. He was always kind, outgoing, friendly, and extremely generous. He loved to see everyone smile and did whatever it took to ensure that each person enjoyed their visit to our hospital. He and Dr. Montor were happily married for over 30 years. They enjoyed many travels together including France, Italy, Germany, Canada and many more places. He even proposed in St. Lucia! Keith was a very adventurous, "live on the edge" type of guy who loved to push the boundaries but also had a soft spot for the people he truly cared about. He enjoyed traveling, furniture making, playing music, and constructing boats. He even built two catamarans! Keith is deeply missed, and we know he would be proud of how we have kept his memory and legacy alive!
Theresa
Hospital Administrator
Theresa has almost 10 years of experience in veterinary medicine and is currently enrolled in a bachelor's program in Psychology. She works to create a medical environment that will reduce the stress that often accompanies being a Pet Parent. She works hard to keep all lines of communication open between staff members, doctors, and clients. Additionally, she is responsible for the design of many of our in-hospital systems that help to make a pet's visit or stay, more comfortable. In her free time, she enjoys spending time with friends and family, reading, and taking spontaneous trips to Walt Disney World. She has a spoiled dog named Toby and five spoiled cats that she cares for at home.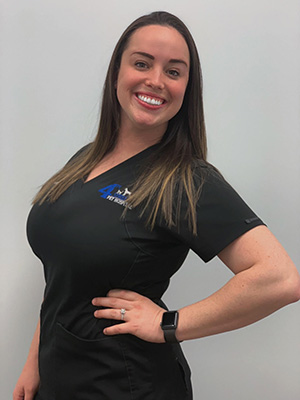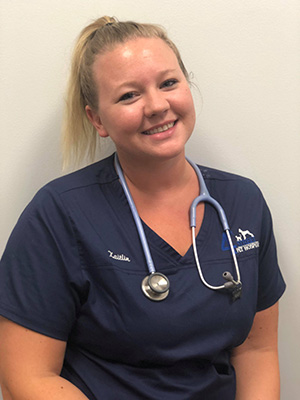 Kait
Supervisor of Technicians
Kait has been a Veterinary Technician at 4th Street Pet Hospital since March 2016. She graduated from SUNY Ulster, located in New York, with an Associates Degree in Veterinary Technology in January 2015 and became a Licensed Veterinary Technician in April 2015. Kait loves animals of every species and strives to ensure that all pets get the highest level of care. As our Supervisor of Technicians, she is responsible for teaching and leading our team of veterinary nurses. In her spare time, Kait loves going to the beach, reading, and traveling. She also loves being a pet parent to her 3 sweet dogs and 2 mischievous kittens.
Ashley
Veterinary Technician
Ashley has been a veterinary technician at 4th Street Pet Hospital since November 2014. She has been working in the veterinary field for 4+ years and is currently attending the veterinary technology program at SPC to obtain her certification. Ashley is very passionate about animal care and client education and strives to strengthen the human animal bond. At home Ashley has 2 dogs, 2 cats, 2 rats, and 1 snake. Along with caring for patients in the clinic, she enjoys spending her time caring for her many animals at home. She hopes to one day start an animal sanctuary to provide a forever home for animals in need.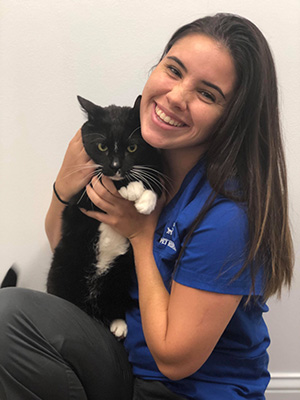 Kayla
Veterinary Technician
Kayla has been an employee at 4th Street Pet Hospital since August 2015. She is one of our technicians who strives to keep every pets tail wagging! Kayla currently takes care of our famous house cats Boots and Twigg over the weekend as well as her own fur babies Henry and Holly (AKA Howie). Kayla is a crucial part of the 4th Street Pet Hospital family as she knows the ins and outs of every position: reception, assistant, and technician. To know each position well enough is a task not everyone can master but if anyone can do it, its Kayla!
Boots - Hospital Cat
Boots was brought to us by an employee who found him as a stray, and couldn't leave him behind! He was placed in a home but sadly it did not work out. He was returned to us and he captured our hearts. We decided to keep him with us, and make the hospital his forever home. Boots enjoys climbing on top of tall cabinets, playing with cat nip, and entertaining our clients.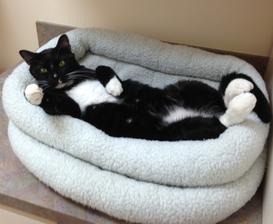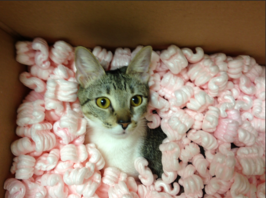 Twigg - Hospital Cat
Twigg came to us after having been found up in a tree for three days. At first, Boots was very suspicious of Twigg as he had become used to having the entire hospital to himself. After a few months, they became good buddies, although Twigg still loves to attack him in play, and then run under things that he is too large to fit under.
Want to see our state-of-art veterinary medical
equipment? We would love to show our clients, what goes
on behind our treatment doors.