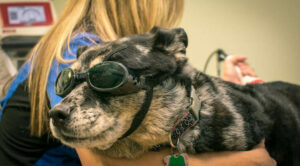 At 4th Street Pet Hospital, we take treating your pet's pain seriously, and we have many options for improving your animal friend's quality of life.
Cold laser therapy—also known as PBM or Photobiomodulation—is a non-invasive, painless, and drug free treatment that has been shown to reduce pain, inflammation and speed healing. It has been effectively used to treat many acute and chronic conditions, including:
Post-surgical healing
Sprains, strains, and fractures
Degenerative joint disease
Inflammatory bowel disease,
Periodontal disease
Lick granulomas
Hip dysplasia
Tendonitis and arthritis
Wounds, cuts, and bites
Infections
Using a beam of laser light to deeply penetrate tissue without damage, laser energy induces a biological response in cells which increases blood flow to the targeted area, stimulating the release of pain-relieving hormones.
Your pet may feel gentle and soothing warmth during the treatment, which generally takes anywhere from 5 to 10 minutes. Most patients see positive effects after 3 to 5 sessions.
Contact us to find out if cold laser therapy is right for your pet!